I designed this piece with outstretched arms, so that the new owner can contribute to the look of the piece by hanging their own necklaces & pendants on them. Ravens & crows, of course, are known for their fascination with bright, shiny
things - so I gave this one a large brilliant-cut cubic zirconia stone glittering in his beak.
The piece is constructed of ebonized oak, with carved composite gold-leaf accents. The Raven scene is carved in deep relief in basswood, and
painted with acrylic. The base contains a layer of polished black beach pebbles.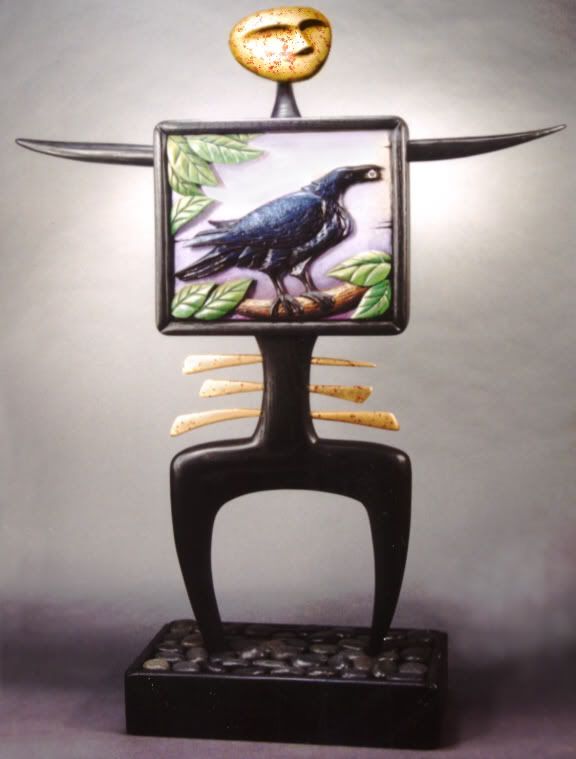 Here's a close-up of the face I carved for the scu
lpture below. I carved it in a smooth-grained wood (basswood), and then painted it with a rusty-red undercoat, followed by a splotchy covering of composite gold leaf. I wanted the red to show through the little gaps in the metallic covering, just as it did on the "spikes" on the lower body.
Note that it's not carved fully "in the round", but almost as a bass-relief
piece in keeping with the almost monolithic shape I'm so fond of right now.
These pieces are almost tablet-like in shape - something I find fascinating.


This piece is still available at $6800 - Email me for details: David@StewartArt.com
or call me direct at: (505) 296-1400
DESIGN, PHOTO AND TEXT © DAVID LLOYD STEWART - ALL RIGHTS RESERVED